Omniwatch 400
Omniwatch OW400 Control Cabinet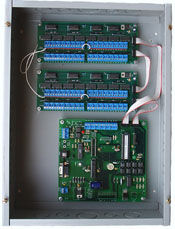 Omniwatch retrofits existing nurse call systems to provide computer reporting of call light activity.
The Omniwatch system consists of a control panel, installed at each nurse station, and a Windows software program which runs on a computer.
Cut Sheet on the Omniwatch Nurse Call Monitor
Retrofits existing call systems

Expandable from 32 to 288 inputs

Optocoupler inputs provide electrical isolation

Battery backup power

Up to 30 control panels can be networked to 1 computer for call activity reports

Relay output for alert if a call is on or if a call is on for a given number of minutes

Serial output for optional radio paging

Serial output for optional email and two way radio
Computer: A computer with a serial or USB port, which is already at the facility, is used.
Computer wiring: A 2 pair level 3 data cable is looped between each control panel and the computer.
Call-light wiring: A wire is connected from the Omniwatch control panel to each annunciator lamp of the call system. Omniwatch will accept an input of 12 to 30 volts AC or DC.
Control panel power: The control panel is powered by a 12 volt AC plug-in wall transformer.